Ham & Lentil Bean Soup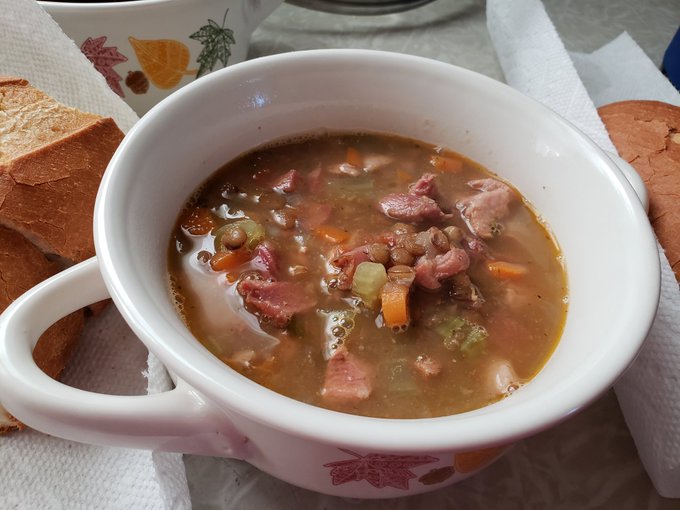 Nothing helps usher in Autumn's arrival like a hearty ham and lentil bean soup. Full-bodied flavor and delightful textures make this recipe a family favorite.

This tasty recipe takes a bit of time to prepare, and you will need to let it cook about two hours on the stove. I make a large pot of it to last a few days. You can cut this recipe in half if you'd like.

Gruff's Tips
Meats:
I use a large, meaty ham shank in this recipe. I remove most of the meat and cut it into bite-sized pieces before adding the shank to the pot. Otherwise you'll find yourself struggling to remove meat from a hot bone.

I also add raw, deboned pork blade steak. It's not a lean recipe; the fat adds to the flavor.

Lentils:
These beautiful legumes come in a variety of colors. I prefer a visually vibrant soup, and so I go with dried pale greens and yellows. Just remember to prep your beans by rinsing them to remove any debris and get them moist. Salt will toughen these little guys. If you prep them first and set them aside while you prep other foods, they won't be chewy.

Chicken broth:
I swear by the Kroger's Simple Truth Organic™ Low Sodium Free Range Chicken Broth. The flavor doesn't overpower you. No antibiotics, added hormones or artificial flavors and preservatives are in this soup. It's certified USDA Organic and is a non-GMO product. It's also not as expensive as other brands. If you do not have a Kroger/King Soopers near you, you can order it online here.


Gruff's Ham & Lentil Bean Soup
1 meaty ham shank (remove the ham from the bone before adding to pot!)

1 pound raw pork blade steak, cubed

8 cups of low/no sodium chicken broth + 1 or 2 cups water to fill the pot, if necessary

2 cups dried lentils, rinsed

4 campari tomatoes, blanched and skins removed, or 1 can diced tomatoes

1 yellow onion, diced

3 to 4 carrots, peeled and sliced

4 celery ribs and greens, diced

1 teaspoon dried oregano

1 teaspoon garlic powder (or more to taste)

1/3 teaspoon black pepper

Dash of dried parsley
1.
Add broth to the pot and bring to a simmer. Toss in diced ham from the shank, the shank bone itself, and the cubed blade steak. Add water so that the meat is completely covered. Bring to a boil, then let simmer for an hour.
After an hour, remove the shank bone from the pot. Allow it to cool so you can pull extra meat from it.
2. Prep your veg and lentils while the meat cooks!
3. Add the vegetables, lentils, and seasonings to the bot. Bring the pot back to a boil, and then turn the temp down and allow the soup to simmer for an hour, or until the carrots and lentils are soft.
This delicious soup can be served with toasted sourdough or French bread.
Please feel free to toy with my recipe as you like. My version throws "healthy lean meat" out the window. Leave a comment and me know how your take on it turns out!